Living area: 20 sqm
Rooms: 1
Beds: 1 + 4 extra beds
Description
Experience the unique opportunity to live on the lake Tisnaren on our houseraft. Swim and fish directly from the houseraft. Which contains 4 beds, cooking / barbecue facilities, toilet, stove, water and in front of the house a sundeck. Solar panel for electricity. The houseraft is anchored on the lake and you use a free boat with motor, which is included in the rent, to take you to the houseraft and around Tisnaren. When renting includes: 1 bottle of stove fuel, 2 gas cartridges for the gasstove and fuel for the boat engine. Excursion tips: Rejmyre Glasbruk, Julita Gård, Vingåker Factory Outlet and Kolmården. Price 2021: SEK 2600,- / day. Arrival at 14.00 - departure at 11.00 Bring your own sheets and towels or rent from us. Clean yourself or let us clean at a cost.
If you want to barbeque, bring your own charcoal, or buy from us.

The raft includes lifejackets, first aid kits, lifebuoys and fire extinguishers / fire blankets.

Directions
From Vingåker go towards Rejmyre, road 1175 into Östergötland. Pass the community Byle and lake Tisnaren and continue along a long stretch of road with several slopes. Pass Skedevi church on the left. From there it is 2.7 km to our entrance on the left side where it says Björnhult Solliden. From Katrineholm / Rejmyre you pass Hävla, a small village and from there it is 2.5 km to our entrance on the right side where it says Björnhult Solliden.

Drive in and park on the gravel path and follow the signs on the plot.

Close by
Shop: Grocery store
Pharmacy: Pharmacy
Banking: Bank
Bus Stop: Bus stop
Fishing: Fishing
Golf: Golf
Restaurant: Restaurant
Lake: Lake
Liquor Store: Liquor store

Prices and availability dates
Low season: Contact the owner for prices
High season: 2600 SEK/Day
Contact
C Pierre Förvaltning AB
Cathrin Pierre
Björnhult Solliden
643 94 Vingåker
Mobile: +46 70-398 87 80
Homepage: husflotte.com

Booking Enquiry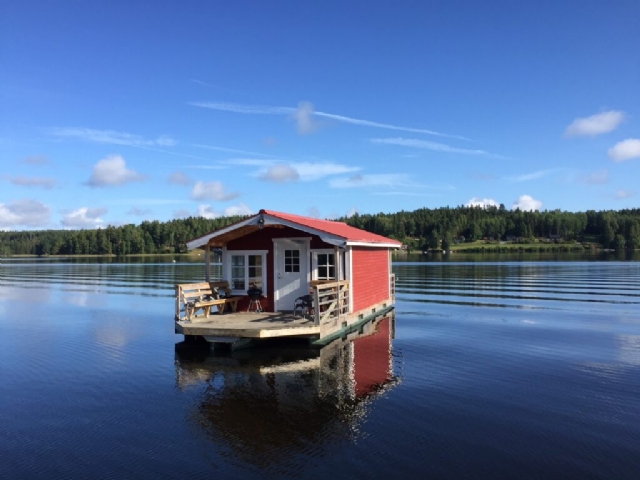 Facilities:


Pets not allowed


No smoking

Bath/toilet:

Plumpsklo (Außentoilette)

Cooking:

Cooking facilities


Refrigerator

Outdoor:

Porch


Terrace with furniture


Barbecue

From the same advertiser
» Houseraft Svea, live on the lake Tisnaren: 1 + 4 Beds
Similar objects
» Cottage on the island Harstena: 4 + 1 Beds
» The homestead on Sandviks Gård: 8 Beds
» Stay on the island Harstena in Gryts skärgård (archipelago): 4 + 2 Beds
» Private Seashore Jetty/Sundeck Archipelago: 6 Beds