Living area: 65 sqm
Rooms: 2
Beds: 6
Description
A complete set of pictures, visit our photo gallery: http://rise.se/ne

Gorgeously located cottage in quiet forest location directly on the lake Nissången, 15 km from the center of Malung (Dalarna). Distance from Stockholm 350 km, Göteborg 420 km, Malmö 710 km.

Enter the lake directly from the plot. The beach is shallow with sand bottom – excellent for small children. Further up in the bay is a public beach – one of the very best in Malung. There is one neighbour in between. On a hot / sunny day, local families come to swim. The total quietness may be interrupted for a few hours.

The cottage is charmingly primitive - there is no electricity. Lighting comes from candles and oil lamps. Drinking water is collected from a well on the site.

The living-room has a fireplace the dining table is placed by a large set of windows offering a stunning view over the lake. In the back of the room is one Queen size bed.

The bedroom has two bunk beds of the old Dalecarlian type, in total four beds. Additional twin beds is available in a small (6 m2) bedroom in the boathouse building.

The kitchen, lacking running water, is equipped with wood stove, LPG stove & oven and LPG fridge.

A log house directly on the beach contains a wood fired sauna, a simple (camping) shower and a relax room with breathtaking views over the lake, along with a sundeck in two levels and a connecting pier into the lake.

The boathouse contains a woodshed, the row-boat and two bicycles. Here are also safety wests in adult and children sizes.

Separate privy (outside dry toilet) with lake view.

Visit our photo gallery: http://rise.se/ne

SEASONS AND PRICE RANGE
During Mid- and High season (late June, July, August), the normal rental period is minimum two (2) weeks. Change day: Saturday.

WEEKLY RATES (incl. Firewood, LPG gas, Rowboat and two (standard) Bicycles):
- High season: SEK 7200-7900
- Low season: SEK 5800-6500

You are expected to leave the house neat and clean. We provide the cleaning materials.

Additional services: Final cleaning, Bedlinen & towels.

Availability: http://rise.se/Availability

Request current Availability and Rate with the Owner. Include information on the size of your family/group? # Adults/Children? Children ages?

Directions
TRAVEL TO MALUNG
Lake Nissången is located in a forrested area, 15 km from the centre of Malung. Distance from Stockholm 350km, Göteborg 420km, Malmö 710km.

Bring your own car on Ferry
Frederikshavn–Oslo (stenaline.de); +254 km (3,4 h)
Kiel–Göteborg (stenaline.de); +401 km (4,9 h)
Kiel–Oslo (colorline.de); +254 km (3,4 h)

By air and rental car
Stockholm-Arlanda Airport; + 339 km (4.3 h)
Stockholm-Västerås Airport; +251 km (3,2 h)
Oslo-Gardemoen Airport; +239 km (3,1 h)


Close by
Shop: 15 km; Grönland (Center of Malung)
Pharmacy: 15 km; Grönland (Center of Malung)
Swimming: Directly from plot
Banking: 15 km; Grönland (Center of Malung)
Boat Rental: Rowboat included
Fishing: Directly from plot or from boat
Golf: 20 km; Malung Golf Club
Canoe rental: 13 km; Bullsjön (Malung Camping)
Nearest neighbor: 100 m; Public swimming beach
Restaurant: 15 km; Grönland (Center of Malung)
Horse Riding: 10 km; Vargheden
Public Pool: 15 km; Grönland (Center of Malung)
Lake: Wide long private beach
Forest: Lake located in forrested area
Beach: Wide long swimming beach
Liquor Store: 15 km; Grönland (Center of Malung)
Hiking trails: Directly from plot

Prices and availability dates
| | |
| --- | --- |
| L | Low season: 8900 SEK/Week |
| | |
| --- | --- |
| H | High season: 9900 SEK/Week |
Arrival and departure day: Saturday
Available Weeks:
2023
2024

1

2

3

4

5

6

7

8

9

10

11

12

13

14

15

16

17

18

19

20

21

22

23

24

25

26

27

28

29

30

31

32

33

34

35

36

37

38

39

40

41

42

43

44

45

46

47

48

49

50

51

52
Contact
Kerstin Rise

Mobile: +46 70-3547790
Homepage: rise.se/ne

Booking Enquiry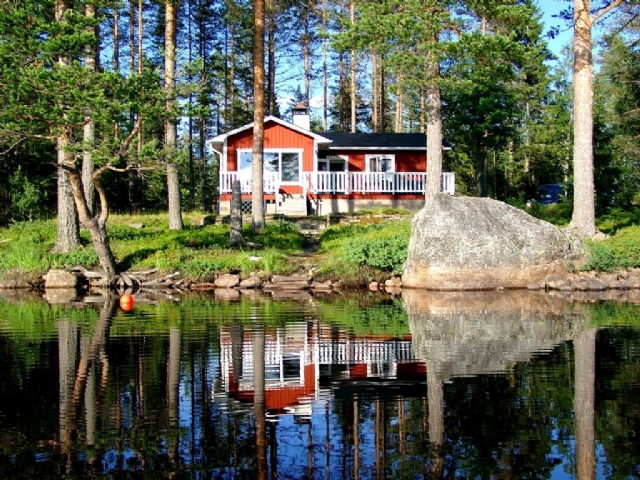 Facilities:


Pets not allowed


No smoking


Separate bedrooms

Bath/toilet:

Plumpsklo (Außentoilette)


Shower


Sauna

Cooking:

Cooking facilities


Refrigerator

Other:

Fireplace


Network coverage for mobile phone

Outdoor:

Porch


Terrace with furniture


Barbecue


Garden

From the same advertiser
» Tandådalen [90m2] Upscale Central; WiFi: 8 Beds
» Tandådalen [30m2] Central Beautiful WiFi: 4 Beds
» Sälen-Tandådalen [65m2] Central location: 8 Beds
» Tandådalen[99m2] Spacious, 3BR, Sauna: 6 + 1 Beds
Similar objects
» Modern house close to Idre, all year: 6 + 4 Beds
» Welcome to my cottage Little Red Hood: 8 Beds
» Spacious mountain cabin in Storfjäten, Idre: 10 Beds
» Mora Cental apartment: 7 + 4 Beds