Living area: 30 sqm
Rooms: 3
Beds: 4
Description
When we took over Nickarve this house was empty and used only occasionally by the builders daughter and son for overnight stays.
By sheer coincidence, we asked the owner to use it when we rented out our house for turists and we needed somewhere to sleep sometimes. It was accepted and then after one year we bought it. For ten years we became our own visitors and thought we had a wonderful summer resort. To made it more comfortable, there came a shower and a toilet in the simplest form. The relaxable stay made it difficult to move back when summer was over.
After the rebuilding of his house it became 30 square meters and completely different inside. It grew westward and made way for a new bathroom and kitchen. In the kitchen, came a stove, and the bathroom became - washing machine.
In 2011, we made also available internet in the house and thus ability to make international television.

Directions
See our homepage.

Close by
Shop: 5 km
Pharmacy: 13 km
Swimming: 7 km
Banking: 13 km
Bus Stop: 700 m
Fishing: 15 km
Sea: 15 km
Nearest neighbor: 100 m
Restaurant: 13 km
Horse Riding: 15 km
Public Pool: 13 km
Lake: 25 km
Forest: 50 m
Liquor Store: 13 km
Tennis: 13 km

Prices and availability dates
Low season: 4000 SEK/Week, 900 SEK/Day
High season: 5500 SEK/Week, 1100 SEK/Day
Mid season: 3500 SEK/Week, 1000 SEK/Day
Arrival and departure day: Freely selectable
Contact
Nickarve Gňrd
Hejdeby, Nickarve 308
621 76 Visby
Phone: +46 498-261505
Mobile: +46 768-461505
Homepage: www.nickarvegard.se

Booking Enquiry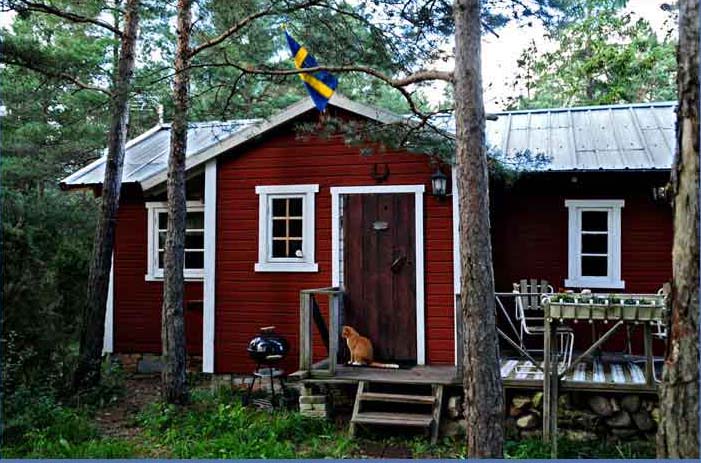 Facilities:


Electricity included


Pets are welcome


No smoking


Separate bedrooms


TV

Bath/toilet:

WC


Shower

Cooking:

Cooking facilities


Microwave


Freezer


Refrigerator

Laundry facilities:

Washing machine

Other:

Network coverage for mobile phone

Outdoor:

Porch


Terrace with furniture


Barbecue

From the same advertiser
┬╗ Nickarve 308 8-10 Beds: 8 + 2 Beds
┬╗ The Eremite house: 2 + 1 Beds
┬╗ The Stonehouse: 8 + 2 Beds
Similar objects
┬╗ Smiss Cottage - Eastern Gotland: 5 + 1 Beds
┬╗ Cottage 4-8 b N-Gotland: 4 + 8 Beds
┬╗ Top quality cottage 75 m from the sea: 5 Beds
┬╗ Summerhouse at Gotland on the southside: 4 + 1 Beds